How Did SoulCycle Hudson Yards Score Overall?
The Highlights
Every part of the studio was on brand and immaculate. This was coupled with an outstanding class experience that truly lived up to SoulCycle's reputation.
What Our Evaluator Had To Say
"The coach gave the impression that they genuinely wanted to be there and gave 100%."
"It was a nice touch for the coach to give a warm welcome to first timers by asking the rest of the participants to give them a round of applause."
"All public areas were highly impressive aesthetically."
What To Expect From A Soulcycle Session
SoulCycle is a premium indoor cycling offering that delivers soulful, music-driven rides in a fun and nightclub-like environment. Their "boundary-pushing" workout is designed to uplift and empower in an environment that's inclusive and non-judgmental. During the class, everyone cycles in time with the beat of the music, creating an in-sync unity and vibe that's made it world-renowned.
They often do themed rides featuring particular artists, for example, you might find a Beyonce Vs Jay-Z class, and each instructor becomes well-known for their music selection. 
If you're a first timer to SoulCycle, we recommend seeking out a class or instructor that you vibe with and who shares your taste in music.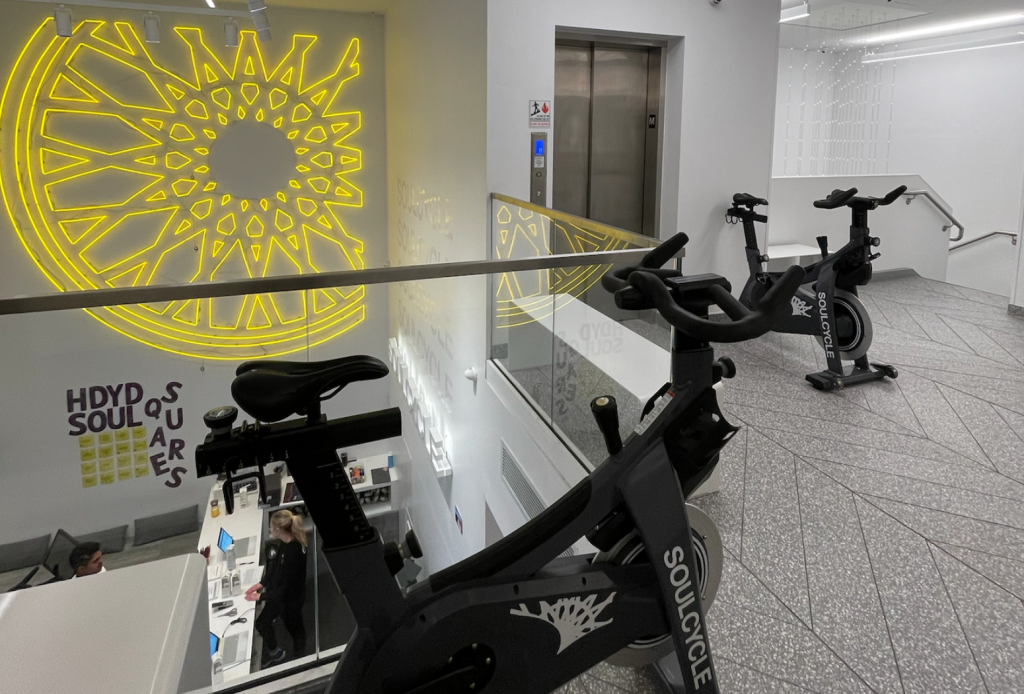 The Reception Service
The reception service was friendly and warm overall and the staff came across as happy to go above and beyond to make all visitors feel welcome. More leadership and personalisation would have further strengthened the connection with clients.
The Class Experience
SoulCycle Hudson Yards received The Fit Guide's prestigious and highest 5-Star Class Experience Award and had one of the highest rated class experiences in New York. 
The onboarding process for those new to rhythm cycling or first timers was very smooth and unrushed, and there was a comfortable amount of time to prepare for the session before it started. 
The coach was highly motivating, positive, and gave the impression that they genuinely wanted to be there riding with the clients. 
The class experience was 5-star and every part lived up to SoulCycle's reputation and stated values.
The Equipment And Studio
There were strong branding elements across the entire space and all fittings were of high quality and working condition.
The Facilities And Public Areas
All public areas were aesthetically impressive and immaculate. A strong sense of arrival was created with tall glass windows and a yellow backlit logo.
Workout and shower towels were provided free of charge. Lockers were provided with number locks. Free water refill stations were available.
Digital And Technology
Booking a class through the website was very intuitive and user-friendly. The website was also professionally designed and included all the necessary information. SoulCycle's email marketing was also well executed. In addition, their social media pages were up to date and were consistent with the values and aesthetics of the brand.
Pricing
SoulCycle offers new clients a range of introductory deals. Clients can take their first class for $25, purchase a three-pack for $75 as well as signing up for 14 sessions in 14 days for $99.
If you're looking for a longer-term commitment, memberships are available from $134 for four classes per month up to $481 for 16 classes.
Drop-in sessions are available at $38 per class, with smaller commitment packages also available, starting at a three pack for $144.