How Did Yoga Movement Tanjong Pagar Score Overall?
The full client experience at Yoga Movement Tanjong Pagar was excellent, achieving The Fit Guide 4-Star Award.
The class was also very good, winning our 4-Star Class Experience Award.
The Highlights
The well-structured group class was a fun and enjoyable experience, delivered by a professional coach. The studio space's impressive artwork and lighting perfectly complemented the brand and really enhanced the mood of the workout.
What Our Evaluator Had To Say
"When I called the club prior to arrival, the receptionist was really comfortable and confident discussing the different package options and current promotions."
"I really loved the way the lighting, artwork and music was used to elevate the class experience."
"The public areas were great and quite outstanding in terms of design and aesthetic."
What to Expect From A Yoga Movement Session
If you want high-quality yoga in a beautifully designed environment, Yoga Movement is your choice. Add attentive, experienced and highly-qualified instructors to the mix and you can see why "YM" is strongly established as one of Asia's leading yoga brands.
If you're new to yoga, YM recommends getting a few Basics classes under your belt, which come with a "sweat level" of 2 out of 5. As you progress, a host of classes will cater to your every yoga need and whim - Power Flow offers a fast-paced 5 out of 5 sweat level, with Resistance bringing a strength challenge to the practice with the use of ankle and wrist weights.
Slow, medium and fast hot yoga options are available, as well as relaxing, breath work focused classes such as Zen.
For a full list of class options, go to the comprehensive YM App or website.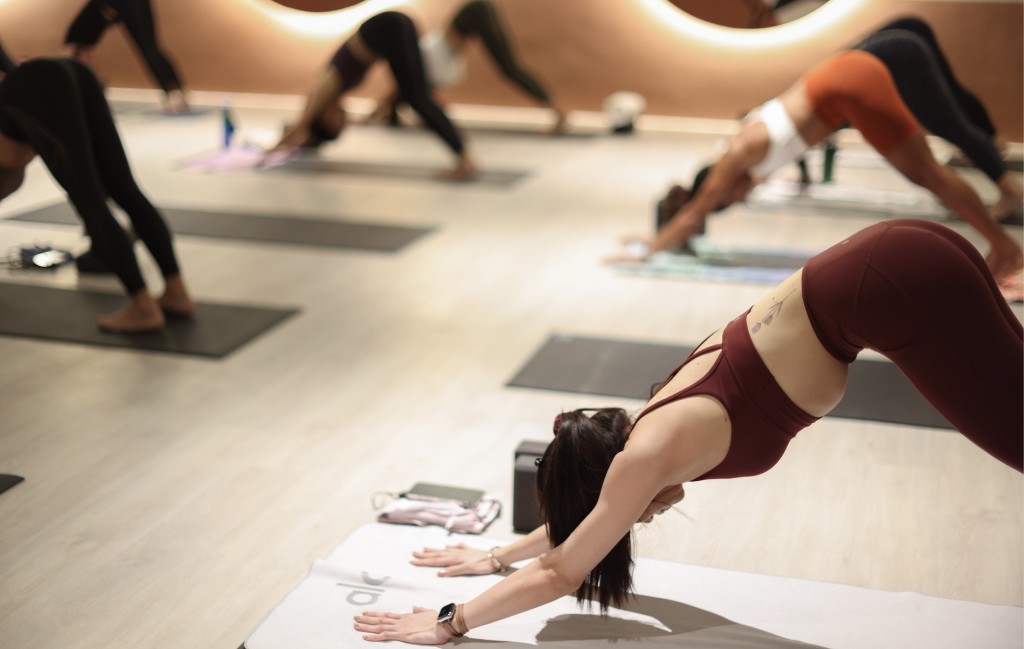 The Reception Service
All staff were friendly and conducted the arrival professionally and efficiently. On departure, a little more effort to connect with our evaluator and encourage them to continue their training at the club would have rounded off the experience well.
The Class Experience
Yoga Movement Tanjong Pagar received The Fit Guide 4-Star Class Experience Award, making it one of Singapore's stand-out offerings.
The coach was knowledgeable and had a calm, positive demeanor. They made an effort to give everyone individual attention and did a great job of offering options for all ability levels. Overall, it was a very professional and enjoyable session.
The Equipment And Studio
The studio space was very special in terms of branded elements. The backlit artwork on the walls was a particularly nice touch and the music really helped to adjust the mood of the class, rounding off a great visual and sensory experience.
The Facilities And Public Areas
Workout and shower towels were available to rent. Lockers were provided with number locks. Free water refill stations were available.
The public areas were quite outstanding in terms of design and aesthetics. The shower and bathroom facilities had a very strong sense of brand and enhanced the experience.
Digital And Technology
The club excelled in their digital offerings. The booking process had great depth, and there were many interesting and useful features in the Yoga Movement app, such as ways to connect with other Yoga Movement members.
Pricing
Yoga Movement offers first-time clients an introductory deal of two sessions for $49
If you're looking for a longer-term commitment, unlimited memberships are available from $279 per month.
Drop-in sessions are available at $35 per class, with smaller commitment packages also available, starting at five sessions for $169.
All prices are in Singapore Dollars.